Facilities Guide
1st Floor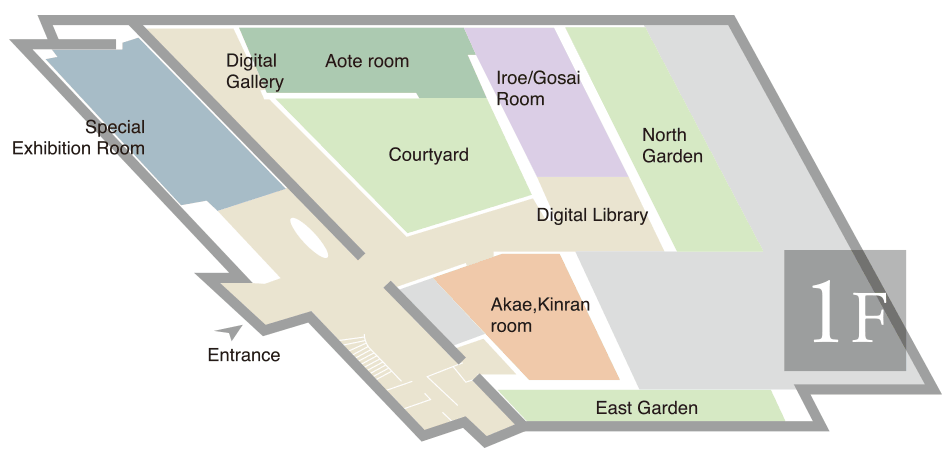 Reception Desk
The screen next to the counter shows a film about Kutani. By watching this film visitors can enjoy Kutani, which showcases the beauty of nature in bold designs with seasonal changes.
Special Exhibition Room
Special exhibitions are held here as needed based on a theme related to Kutani ware.
Galleria
There is an inner garden on the right which shows the changes in seasons, and on the left are exhibition panels illustrating the history of Kutani and the Daishoji area. This space will also take you to the world of Kutaniyaki Art Museum which was designed to blend into nature.
Digital Gallery
There is a screen showing about Ko-Kutani masterpieces, the history of Kutani, and information about Kutaniyaki Art Museum.
Aote Room
Masterpieces of Aote Ko-Kutani's own world with bold brush strokes in green, yellow, dark blue and purple enamels are displayed here. In addition to this, there are famous works from the Yoshidaya and Matsuyama kilns, which feature the traditional Aote style.
Iroe/Gosai Room
This room showcases Kutani ware depicting floral designs, as well as human and animal figures, as motifs with bold and sometimes delicate touches in the green, yellow, dark blue, purple and red overglazed enamels (referred to as Kutani Gosai). The exhibits are seasonal.
Akae/Kinran Room
Akae Saibyo works established by IIDAYA Hachirouemon of the Miyamoto kiln, as well as Kutani ware painted with the bright contrast between red and gold with the Kinrante technique brought to the area by the famous Kyoto potter EIRAKU Wazen are displayed here.
Digital Library
In addition to our own collection, you can enjoy high-definition images of Kutani ware belonging to museums all over Japan. Visitors can also look up detailed information on famous local artisans and pottery studios with an easy to use touch screen.
2nd Floor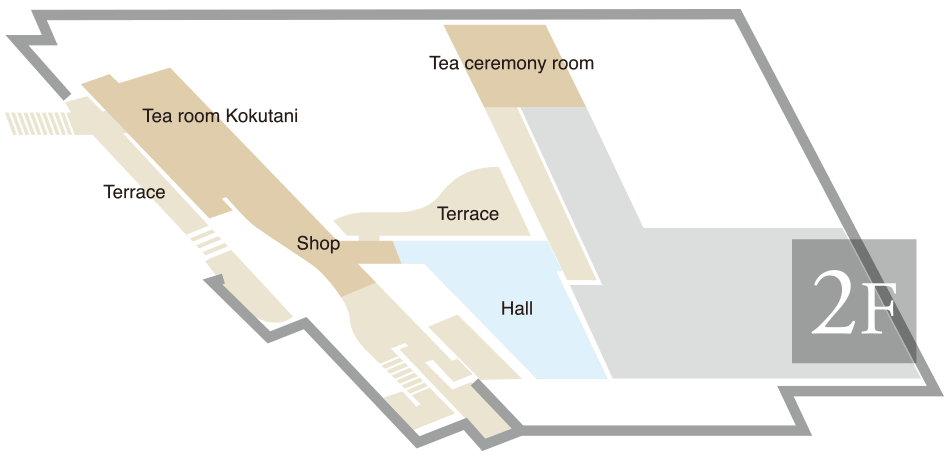 Tea Room (茶房古九谷: Sabo Kokutani)
You can enjoy relaxed conversation while appreciating the view of the garden after the visit to the museum. Visitors are also welcome to the tea room.
Museum Shop
You can purchase the works by Kutani artists today as well as our original museum goods.